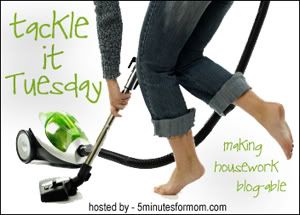 I came home from the grocery store a couple of weeks ago and couldn't fit any more food into our pantry. That's when I knew it was time to clean it out and organize it again.





This first picture is the before shot. I took everything out shelf by shelf. I used almost 2 garbage bags to get rid of stuff that had expired years ago. Yes, years ago. Wow.





All of the stuff on the stove above was taken off of the 2nd shelf. After the shelves were cleaned off everything went back in.

The bottom shelf holds our breakfast stuff and snacks. Cereal, oatmeal, chips, crackers, and popcorn.
The shelf above that hold all of our pastas, side dishes, and a Tupperware container that holds pre sorted snacks that go in Gavin's lunch box.
The shelf second from the top is all of my canned goods. Soups, veggies, and sauces.
The very top shelf holds all of the stuff I have doubles for. When something is used from the other shelves I can then go to the very top shelf and replace it. The pantry has been clean for a couple of weeks now. And since I can see everything now I am not overbuying when I go to the grocery store!
Happy Tackle It Tuesday!!