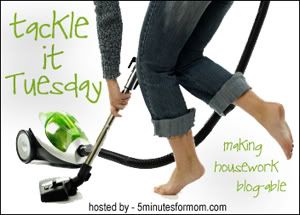 This week I am participating in the first Themed Tackle over at
5 Minutes For Mom
. The theme is Kitchens and Bathrooms sponsored by
CLR Bathroom and Kitchen Cleaner
. I received a bottle of the CLR cleaner in the mail to try out on my bathroom.
Great tackle, right? WRONG! When I signed up for the tackle it didnt even cross my mind that I would have to take before pictures of the messy bathroom and then post them where all of you could SEE them! Believe me, no one wanted to see my bathroom. Its actually the master bathroom that was in desperate need of this tackle.
You see, my DH is in charge of the cleaning of the master bath and the computer room. When you see the before pictures you will see it doesnt happen very often. So, here we go, the before pictures:

That was the shower and our sink. Now, lets talk about that awful sink. It is black as you can see. Which is so hard to keep clean ( at least to me ). That horrible looking whiteness in the sink is actually calcium, lime, hard water deposits and soap scum. Oh, and lets not forget the toothpaste residue. That's in there too. I have used every cleaner out there- even Lime-Away - and it doesnt really ever go away. It looks cleaner after I am done cleaning, but it comes right back.
The first thing I noticed about the CLR cleaner was the smell. It didnt smell like a harsh bathroom cleaner at all. Which is great! So I was able to clean the whole bathroom completely without having to leave halfway thru to clean out my lungs!
The cleaner states to spray on the area you are to clean and wait 2-3 mintues before cleaning off. I'll be honest here, I dont have time to wait that long. I waited about 45 seconds before I started cleaning. I was AMAZED at how well this worked- really!! The soapscum in the shower wiped right off with NO scrubbing from me. Also, the sink dirt required no scrubbing either.
Here are the after pictures:


Ta-Da!! I think it turned out great of course!! Its been a couple of days and the yuckiness in the sink hasnt returned. Even DH was amazed at how easy it was to get the shower clean!
To see more participants of the CLR Tackle head on over to 5 Minutes for Mom!