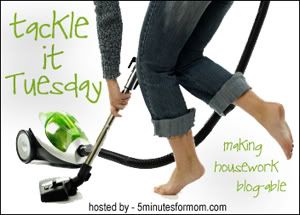 I finally got fed up with our medicine cabinet and decided to tackle it. Nothing could ever be found in it and sometimes when you opened the cabinet doors stuff would fall out at you. Pretty bad. Here is the before shot:



See what I mean? Pretty bad. Half of the medicines in there were expired. We had a first aid kit in there too. Everything in the first aid kit expired in 1997. Why would I still have that??? 3 half filled bottles of baby Tylenol. A band aid box that was empty. A bottle of rubbing alcohol and some aloe that expired in 1998. The funny thing is Ken and I didn't even meet until 1999. One of us has been toting around expired stuff from house to house! ha ha.
So, I went out and bought cute little baskets to sort all of the remaining stuff. I even labeled each basket so there is no question where stuff is now.
Here is the nice, neat, organized medicine cabinet:

Hope everyone else had a great tackle too!